BIOGRAPHY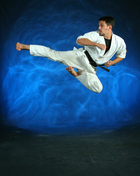 In 1994, Dennis began his training in Hapkido and began his film pursuits while teaching Martial Arts part time. After connecting with the independent martial arts film group, "The Stunt People" in 2004, they completed their first feature film, "Contour" in 2006. By 2007, Dennis became a Martial Arts School Owner in the North Beach neighborhood of San Francisco. While running the school, he continued persuing both stunts and acting in the San Francisco Bay Area. Just after finishing his first independent feature film "Unlucky Stars," he was unfortunately forced to close his Martial Arts School due to an outrageous rent raise. Dennis decided to move to Los Angeles where he is actively training in both Hapkido and Brazilian Jiujitsu while pursuing his film career.

---
NOTABLE AWARDS AND ACHIEVEMENTS
2006 The feature film "Contour" (aka "The Agent"),in which Dennis plays the villain, was nominated for "Best Action Choreography" and "Best Action Sequence in a MartialArts Film" in the 2006 Action On Film Festival.

2007 Dennis' short film "Fievel Throws Down" was a featured selection in the 2007 Action On Film Festival. The film received a nomination for "Best Fight Choreography," and Dennis was nominated for "Break-Out Action Star."

2008 Signed with Look Talent Agency
2009 First co-starring role as "James Walker" on NBC's "Trauma". Dennis also makes film debut in the 2009 Bollywood film "Love Aaj Kal" as "Santos" in which Dennis has a scene opposite Bollywood Star Saif Ali Khan.
2010 Plays one of the lead roles in the Independent Film "Owned" directed by Jose Montesinos. "Owned" wins first runner up in the "Best Drama" category at the 2010 Action On Film Festival and was also nominated for "Best Overall Cast Performance".

2012 Unlucky Stars in production - It's Indiegogo Campaign creates some International Media Buzz among Hong Kong Action Fans!
2013 "American Brawler" (aka Barrio Brawler) receives a limited Theatrical Release, Redbox Distribution and is now available on Netflix and Itunes!

2015 Unlucky Stars is completed and receives several great reviews from Kung Fu Kingdom, Kiai Kick, Martial Arts Action Junkie, & Film Combat Syndicate.
2015 Unlucky Stars acquires a Distribution Deal and earns four Nominations including Best Action Feature of 2015, Best Choreography, Best Action Sequence in a Martial Arts Feature and Best Action Sequence in A Feature. Unlucky Stars WINS an award for Best Action Sequence In A Feature at the AOF 2015!

2016 "The Man From Death," is chosen as "Short Of The Week" (Shortoftheweek.com) and earns a "Vimeo Staff Pick!"